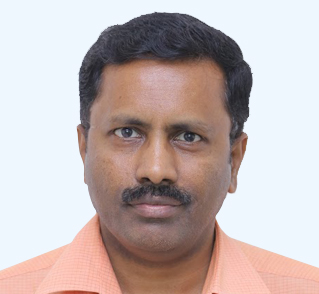 Dr.N.H.Siddalingaswamy, Faculty of Mechanical Engineering at Department of Technical Education, Government of Karnataka, joined All India Council for Technical Education (AICTE) as Director on 29th September, 2014. Presently working as Director in e-Governance Cell with additional charge of CMAT & GPAT Cell, Parliament Cell, and BDT Unit.  He is responsible for all e-Governance related activities of the Council and is the Chief-Coordinator of two national level examinations CMAT & GPAT. 
Dr.N.H.Siddalingaswamy obtained both Bachelors and Master's Degree in Mechanical Engineering from Bangalore University, Bangalore, Karnataka, and Doctoral Degree from National Institute of Technology (NIT) Calicut, Kerala (An Institute of National Importance).
Dr.N.H.Siddalingaswamy in his illustrious career of 23 years held several important Academic, Research and Administrative positions. He started his career as Lecturer and elevated to level of Principal(I/c), at Government Engineering College, Karwar, in 2009 and moved to Directorate of Technical Education, Government of Karnataka as Coordinator (e-Governance) in the year 2011. 
Dr.N.H.Siddalingaswamy, as an Academician, Researcher and Administrator has taken up several new initiatives for Academic, Curricular & Co-curricular activities, Entrepreneurship, Research and Good Governance. He has successfully implemented projects of two international repute companies, namely Project Oorja of Microsoft and Toyota-Technical Education Program (T-TEP) of Toyota. Also, having expertise in the areas of Materials & Metallurgy, is actively involved in R&D, and has published Twenty Seven (27) Papers in International / National Journals / Conferences apart from giving guidance for Engineering and Technology Students at Ph.D Level. 
Dr.N.H.Siddalingaswamy worked as Member and Chairman of Various State Level Committees and as Coordinator / Nodal Officer for National Level Schemes like  Rashtriya Uchchatar Shiksha Abhiyan (RUSA), All India Survey on Higher Education (AISHE), National Mission on Education through Information and Communication Technology (NMEICT) apart from State Level Schemes. Presently is working as a nodal officer for Digital India and Smart India Hackathon and as member of Joint Implementation Committee of MHRDs SWAYAM Project.  He is also actively involved in the activities of many Professional Bodies / Societies, such as ISTE, MRS, IIF and IE (As Member of Academic Advisory Committee of Indian Technology Congress).